Panasonic Provides An Integrated Telephony Solution For Healthcare Facilities
Panasonic has created an expanded solutions partnership with communication applications company Poltys Inc., which includes the Direct Care Connect Application for the healthcare industry. Designed for assisted and independent living facilities, skilled nursing facilities and hospices, Direct Care Connect provides nurses, doctors, and caregivers with faster response times to their patients needs through a robust telecommunications system.
Poltys Direct Care Connect (DCC) solution helps Assisted Living Facilities and Nursing Homes manage communications and personnel more effectively.
Poltys Direct Care Connect and most Nurse Call applications seamlessly integrate with Panasonic's KX-TDE and KX-NCP series of IP-enabled business telephone systems. Together, they will provide real-time alarms and notifications to caregivers as soon as patients require assistance. Instead of carrying pagers and using a wired telephone to call a patient's room, caregivers can use Panasonic's DECT cordless handsets to receive notifications, immediately prioritize patients' requests and respond to calls quickly. This integrated solution allows for increased employee productivity, better customer care and reduced hardware costs.
HOW IT WORKS
When patients trigger an alert through their nurse call system and the Panasonic telephone system, a notification is sent to a caregiver's handset displaying the patient's name or ID, information such as a room number, and even a preset priority level. Additionally, when a Panasonic DECT handset receives an alarm, an audible alert is heard to indicate a notification has been received. The system also allows the correct personnel to attend to situations based on an alarm type during normal and escalated circumstances. As alerts are received, caregivers have three options to respond: 1) acknowledge they received the notification; 2) notify next in line; 3) talk directly to the patient in the room.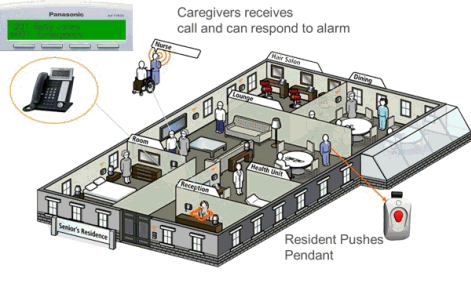 KEY FEATURES
• Compatible with Panasonic KX-TDA/TDE/NCP/NS IP-PBX series
•Immediate text display to Panasonic DECT portable handsets and proprietary desk stations
•4 alarm escalation levels with email notifications
•Real-time monitoring of quality of service delivered to the patients
•Reports provide in-depth understanding of system functionality and staff efficiency
•Schedule reports for timed delivery to multiple recipients
•Time, shift support patient-caregiver-group assignment
•Supervisor/ Administrator access rights protection by password
•Dynamic text messaging from supervisor workstation
•Multiple TAP serial Inputs support (up to 8)
DECT Wireless Handset DISPLAY FEATURES
• Alarm type
• Resident's name or ID
• Resident's information
• Response options: Accept, Reject, Call (one key press)
D.E.C.T. Wireless Handsets
Nurse Call Systems that integrate with Direct Care Connect:
Wired: General Electric (GE StaffCall Pro, GE Dukane 6000); Simplex Grinnell; Cornell;
Rauland Borg; Eiris (Eiris-EV2, Eiris-TAP); Telergy; Visonic Spider; AUSTCO-UDP; Homefree;
COMP 2;
Wireless: Systems Technologies, Inc. (Vision Link)